The next generation performer
Our goal behind the photoshoot (as it is with all of our photoshoots) was to show Rimi as she truly is: bold, strong, and fierce.
Upon first meeting her, Rimi played an integral part in crafting her image. She gave her input when she had a great idea, but was also willing to try different things and help us show the full spectrum of her personality. What you see is what we saw: enthusiasm, charisma and energy.
For our first location, we ventured outside to let Rimi's fun, bubbly, but bold feminine energy shine in the natural light. At the second indoor location, we let Rimi show off the strength she'd cultivated in her life with refined and elegant shots.
And the studio? Well, look below and see how much fun we had with that one (and everywhere else). And check out the website (riminiqueofficial.com) to see how they all turned out.
The Why's Of The Website
Rimi is a force of nature. She works hard. You can see it in her eyes on her website's landing page photo.
Her pose, dynamic. Her eyes, passionate and focused. Her attire, rebellious but classy.
And the words are her own.
"My perseverance is my strength."
We needed to portray her an already established artist who can be quoted. The rest of the website follows this trend, showing a tone of direct, honest communication between her and her fans.
For fans and soon-to-be-fans, we put her music videos on the front page, along with her Soundcloud, photos of her lifestyle, and an Instagram button for all to keep up with her life in progress.
The categories above the headers are presented with hashtags to get them thinking social media. A few scrolls down the page, they'll find every link they'll need. And by the end of the page, they'll be clicking on every one.
For the headers, we synchronized them all with the word "when," giving the reading and page a temporal and musical flow.
"When the Mic Drops": a universally recognized gesture and phrase that signals a triumphant finish to a performance.
This also gets visitors thinking – when the mic drops, the curtain falls, and the show ends, who is Rimi Nique off the stage? To answer this, we let Rimi speak for herself. A humble, heartfelt, and inspirational answer to a question she was once asked. People love successful people. It inspires them. And they love a successful person who is humble even more. It warms them.
"When the Silence Stops": Well, that answer is easy. For Rimi, when the silence stops, the music starts. But we don't say that – we show it. A live feed of her Youtube page is presented with her most important videos.
"When You Live Boldly": Rimi's Instagram feed shows exactly that. As if to say, "this is what it looks like if you live boldly."
'When the Show Must Go On": How could we not reference Queen? Association with greatness breeds greatness. By putting her side by side a musical legend like Queen, we show her ambition and level of talent.
Our accent color choice for Rimi was burgundy. It complements the darker themed pictures, without contrasting too much, keeping the tone dark and fierce.
Then, we finish the page clean with a minimalist footer. Social media link and her email for PR and business enquiries.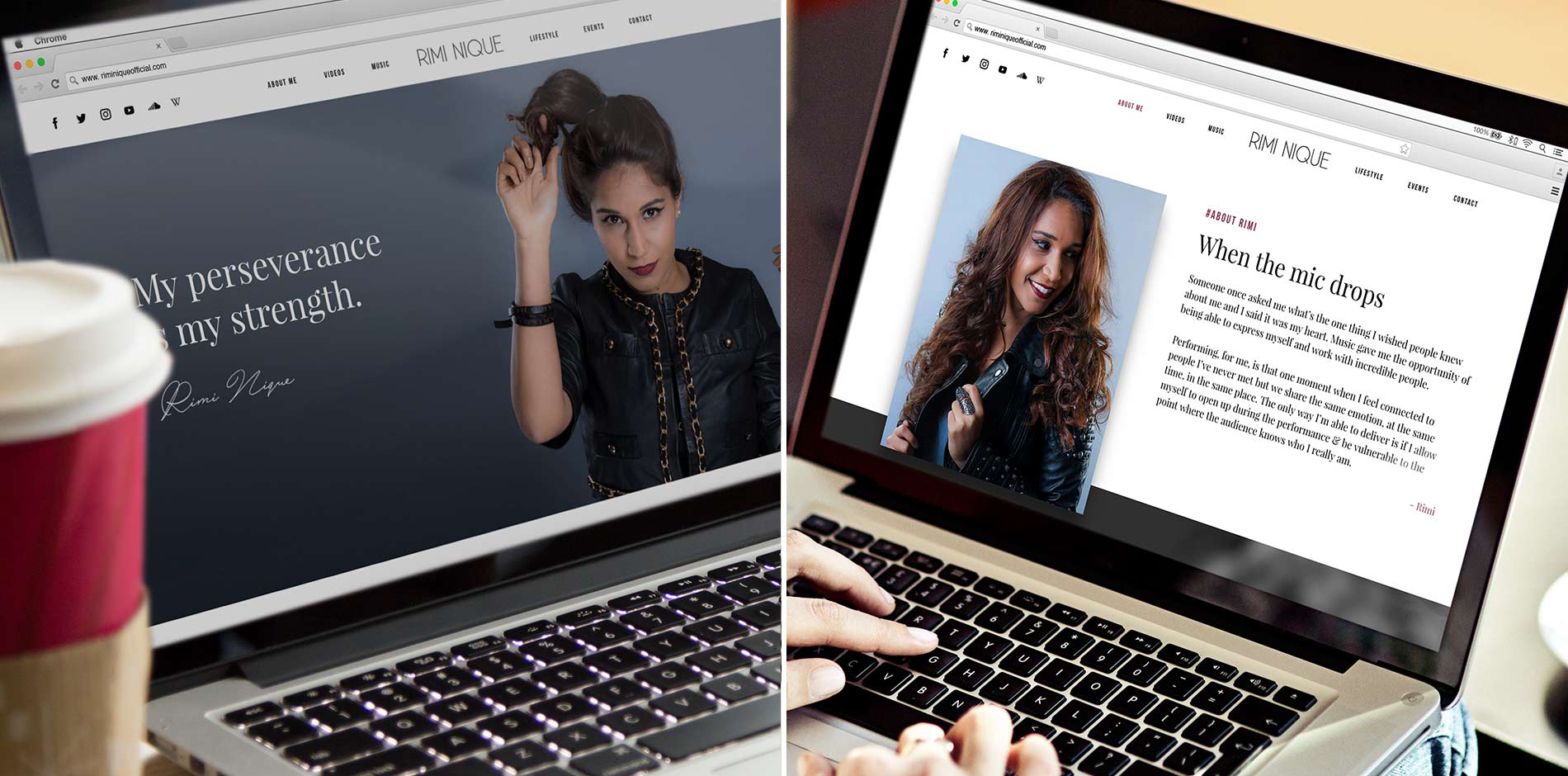 Socially Digital
Rimi's social media needed a makeover. It didn't accurately reflect all of Rimi's great achievements, nor did it mention her important upcoming events. She had a big following, but what the fans really needed was to see how bubbly and candid she is. Now Rimi finds it much easier to connect with her fans and keep them updated with her life and career.
Rimi's gift is her voice. It only needed a proper wrapping for her already huge fanbase to find. Now, fans all around can easily and happily open that wrapping to behold her lyrical gifts.
What's your gift? Let us help you give it to the world.

This journey with 9AM Studio was really captivating. We really have team ownership and pride of what we created together.
Rimi Nique
Singer
Want us to give you an image makeover like this? Or, if you're new, create an image for you?
Let us help you get others to wear, read, and live your brand,
whatever it is. The world needs your gift.
Contact us