The Image of a Champion
Dwayne Bravo is a star athlete all-rounder cricket player, who's earned his fame with years of sweat, passion, and aggressive batting. But, he's also a fun, rambunctious personality, on and off the cricket field.
We needed, then, to capture both his intensity and his life-loving energy.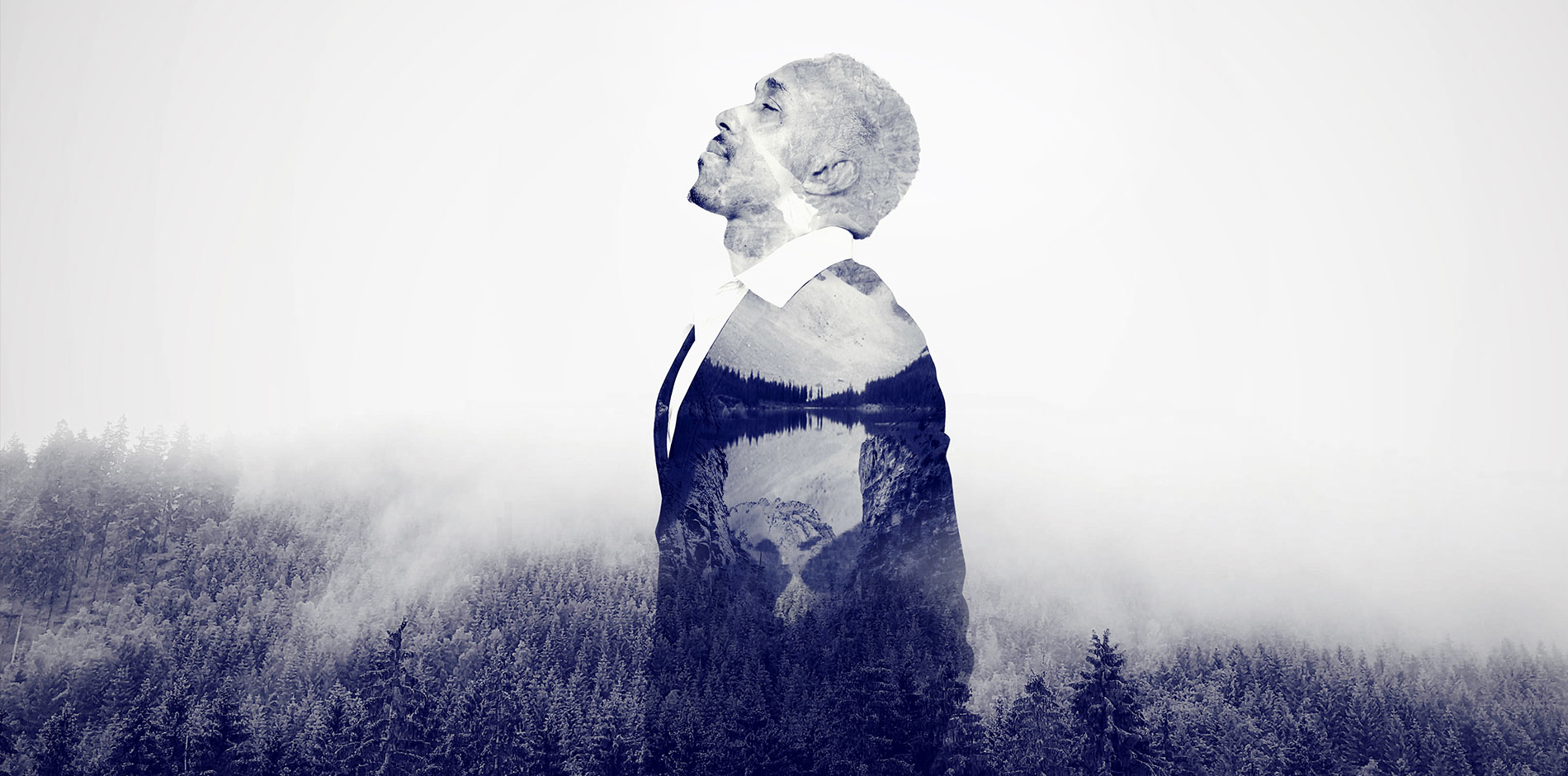 It's picture time
With the photoshoot, this was an effortless task. Dwayne was nothing but cooperative, engaging, and a even bit mischievous.
To balance his outsized personality, we picked out classy and elegant outfits: a crisp white dress shirt with a black suit-jacket and slacks, and a cream-colored sweater with vintage brown shoulder pad designs. The attire presented him as a serious entrepreneur, who is involved in many projects, from his hit song, "Champion" to condom endorsements with Skore. The devilish twinkle in his eye took care of the rest, visually.
Bravo Branding
Our most ingenious move, in our not-so-humble-opinion, was taking his logo and plastering it on shirts and hats. Merchandising. It's the best way to sell an image – make it an everyday part of someone's life. And with Dwayne wearing his signature memorabilia in almost every Instagram post he uploads, it won't take long for everyone to catch the champion fever.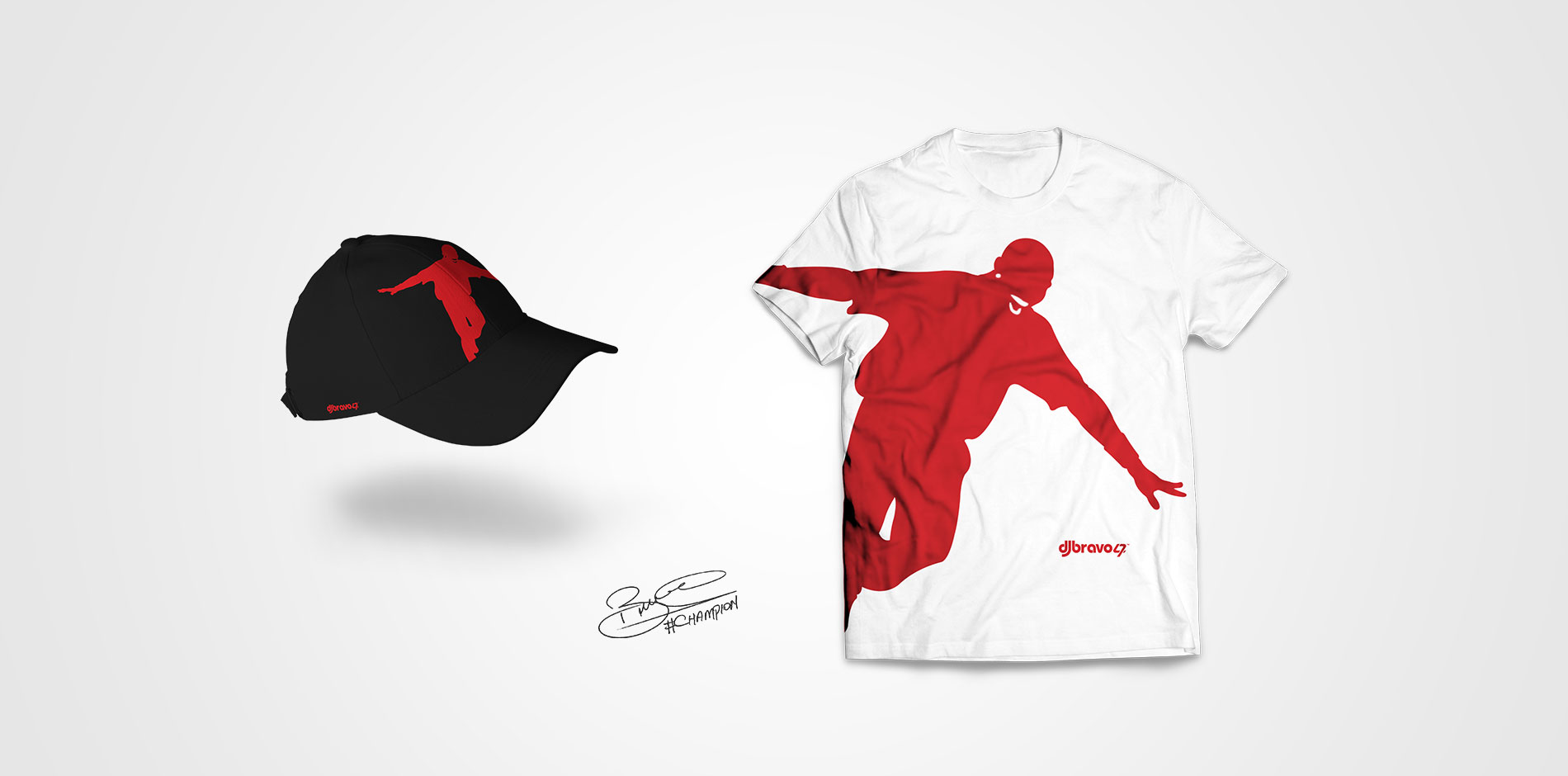 Website Wu Shu
For his website, we aimed, as we do with all of our celebrity clients, to keep it simple and clean. People already know who they are and what they've done, and even if they don't, visitors are quickly introduced – the celebrity's accomplishments then speak for themselves at that point.
His logo represents the outline of Dwayne celebrating yet another win with his signature airplane dance. We chose black to set the tone of an elegant and minimalist black/white theme. To add a subtle flavor, we accented the menu buttons with a light gold color.
Imaginative Congruence
The main photo shows Dwayne crisp and professional, with a poised and proud stance, alongside a quote from him that defines his entire life: "the heart of a champion beats to a different rhythm."
Then, below this, we reinforce his tripartite identity of cricketer, entrepreneur, and entertainer. We even give two tabs below this to show news updates of two of these identities. We finish the homepage with our signature minimalist footer. Social media links and contact info. No clutter.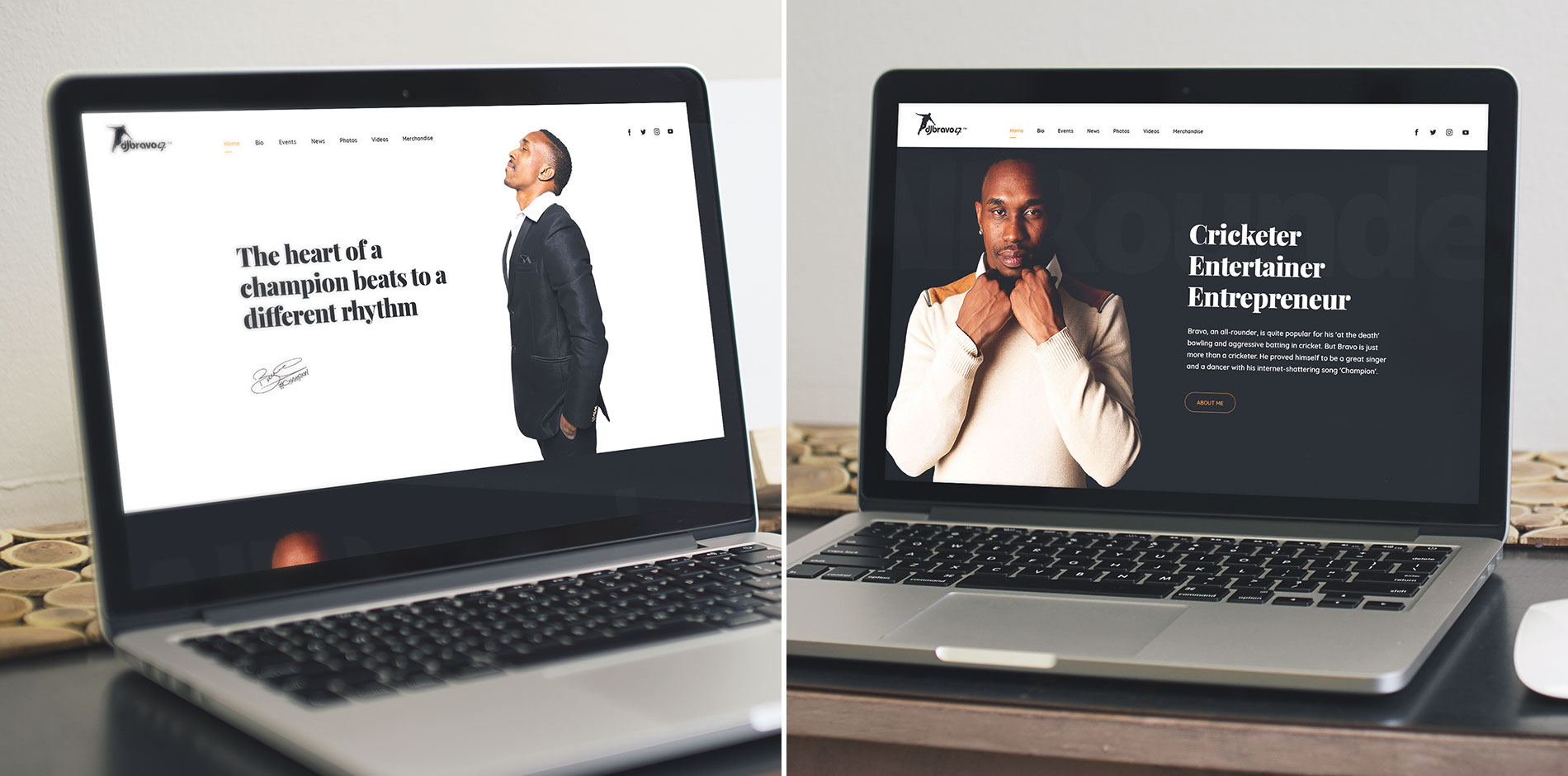 Cohesive Conversions
The homepage provides the template and vibe of the website. The entire website reverberates with this theme in simple and elegant fashion.
To maintain cohesion, the next page in the menu is a more detailed bio, further reinforcing DJ's dynamic personality. His accomplishments, his history, and his ever-expanding future are on full display.
A huge feed of news, videos, and photos follows the bio page. Finally, visitors find themselves at his merchandise page, where they can become live advertisers and supporters of the DJ Bravo brand.

The team made me feel comfortable during the photoshoot. It was professional and fun.
DJbravo
Cricketer. Entertainer. Entrepreneur
Want us to give you an image makeover like this? Or, if you're new, create an image for you?
Let us help you get others to wear, read, and live your brand,
whatever it is. The world needs your gift.
Contact us